Venerable Yin Yeung (1958-2015)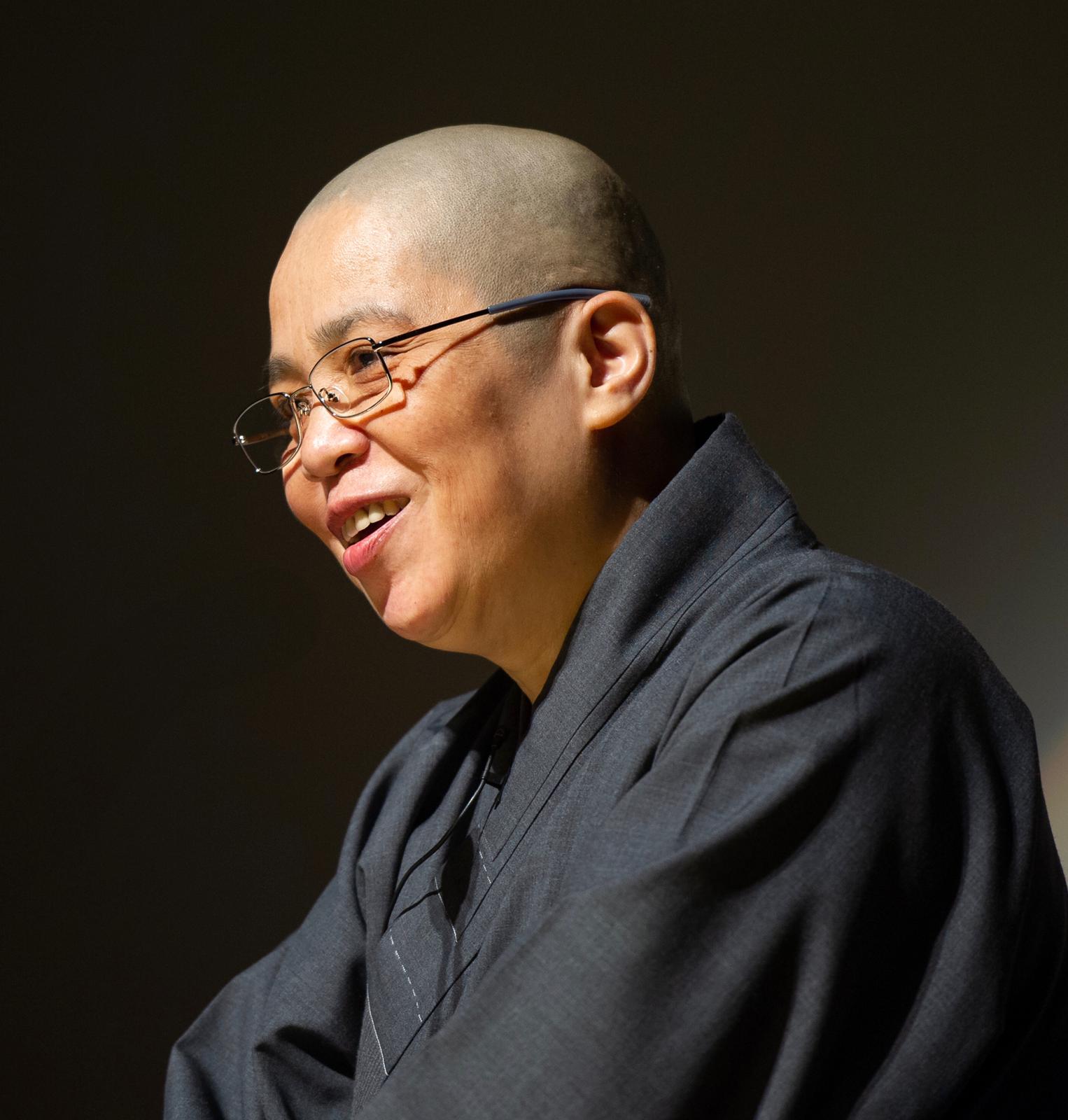 Venerable Yin Yeung was born in 1958, in Kai Ping, Guangzhou Province. She received her tonsure under Ven. Master Sheng Yi in 1992 at Hong Kong Po Lam Monastery and then her full ordination at Lung Hua Temple in Jiangsu Province in September the same year. She passed away peacefully on December 18, 2015 in Hong Kong. Her Dharma body was donated to the Hong Kong Chinese University for research purpose. Both of her Sangha and precept ages are 23.
Ven. Yin Yeung was very smart when she was young and respected elders. She helped with her family while her parents worked. She was the 5th daughter among 10 siblings, and they lived in harmony because of her love for all of them. The family moved to Macau where she completed her education with distinction. After graduating, she became a teacher at Macau Pooi To School and was loved and respected by her students and colleagues. Her family moved back to Hong Kong where she started her career in painting and calligraphy. In the 80s she used the pen-name Ling Chu Fung to publish proses and poems in Macau Daily and Hong Kong Literature publications. In May 1989, she collaborated with Poets Yi Ling, and Tao Li, and established the May Poetry House and published May Poetry Companions that same year. She received high praises for her poem Passing through the Night, July 14, and Dance of Ink.
In April 1992, she renounced all mundane businesses and joined the Sangha. In 1994, she was appointed by her Ven. Master Sheng Yi, to go to Chilliwack, Canada with Ven. Yin Kit to establish Po Lam Buddhist Association. The mission was to expound Dharma in the West. In 2005, she helped establish the Compassionate Centre for Health in Vancouver. In 2006, both Masters became Abbesses of Ta Kioh Buddhist Temple in San Francisco. Besides expounding the Dharma, they also expanded into education and caring for seniors and the sick.
In 2008, she first started holding Dharma lectures in Hong Kong. She then travelled frequently among United States, Hong Kong, Malaysia, China and Macau. Her lectures were humorous, to the point, and received rock-star welcome. She delivered well over 50 lectures. She also had a column in Buddhist Compassion Magazine, and hosted the popular Hong Kong radio program Healthy Planet Dwellers – Mind Purification as well as the Buddhistdoor's Channel B program named The Sutra That Each Family Always Chants. She used her writing and her voice to connect everyone to the Dharma.
Ven. Yin Yeung had extensive and grand will. She had unlimited perseverance, always pressing on. Because she suffered from many types of illness since she was young, her empathy for seniors and the sick was particularly strong. In 2009, she established the SPGA Centre Hong Kong, set up Public Hospital Buddhist Caring Service, visited senior homes and assisted the needy. She used her lifelong courage and experience to educate and motivate everyone to be self-sufficient in the face of adversity, and let living be radiant again.
She loved Chinese culture, excelled in calligraphy and Chinese classic painting and was an accomplished poet. She had 7 painting and calligraphy exhibitions, with the proceeds being donated to the rebuilding of Po Lam in Vancouver, Hong Kong Nang Yan College Endowment, Nepal Relief, and SPGA Centre expansion.
Besides painting and calligraphy exhibitions, she also enlightened the many through writing. She published 5 books, plus a volume of a collection of her paintings and calligraphy. One of her latest honors was receiving a gold medal award in My Favorite Author category for one of her books Farewell Very Well in 2014.
During her life time, everything she had done was for the benefit of Dharma as well as for all sentient beings. She had respectfully exhausted her body, and exerted her utmost effort for her mission. After her departure, her Dharma body was donated to the Hong Kong Chinese University hospital for research, a continuation of her boundless love and selflessness.
Ven. Yin Yeung's earnest and sincere thoughtfulness and her selfless caring for all of beings will leave us an eternal model. We pray for her return on her own vow.